PACKAGE CONTENTS
FineVu X500 Dash Camera *1
Rear Camera *1
Mount *1
Samsung 64GB SD Card *1
Rear Camera Cable *1
Hardwire Power Cable (3M) *1
Cigar Jack Power Cable *1
External Gps Antenna *1
User Manual *1
FineVu – Premium Dash Cam
Since 2010, we have committed to providing the highest quality products in the market.
From HD recording to assisting driver's safety and convenience, we offer the best value our customers can get.
X500 comes with default optimal settings
Auto Night Vision
ADAS works only when GPS is connected
3.5″ IPS LCD Touch Screen

High resolution (800×480) with full HD quality on a 3.5″ LCD screen for clear and sharp images. Get access to instant video playbacks and settings.

1080 HD Front and Rear Recording

Full HD 1920×1080 resolution for outstanding video clarity in all situations.

Auto Day and Night Vision

Auto day and night vision keeps the picture quality clear and balanced in tough-to-capture environments.

Contrast is automatically tuned for optimal video quality in any condition.
Format Free Technology

Eliminates the need to manually reformat the micro SD memory card by using format free technology. It also contributes to extending the memory card lifetime and reliability.

Smart Time Lapse

Maximize memory efficiency with Smart Time Lapse technology.

The device automatically reduces the recording frame rate when there is no event, and recovers full frame rate (30fps) when an event is detected.

Wide Viewing Angle

155° wide viewing angle minimizes blind spots to capture the details of all incidents
FineVu X500 Secret Mode
Protect your dash cam videos with a secure password. Prevent others from accessing your stored videos.
PRODUCT DESCRIPTION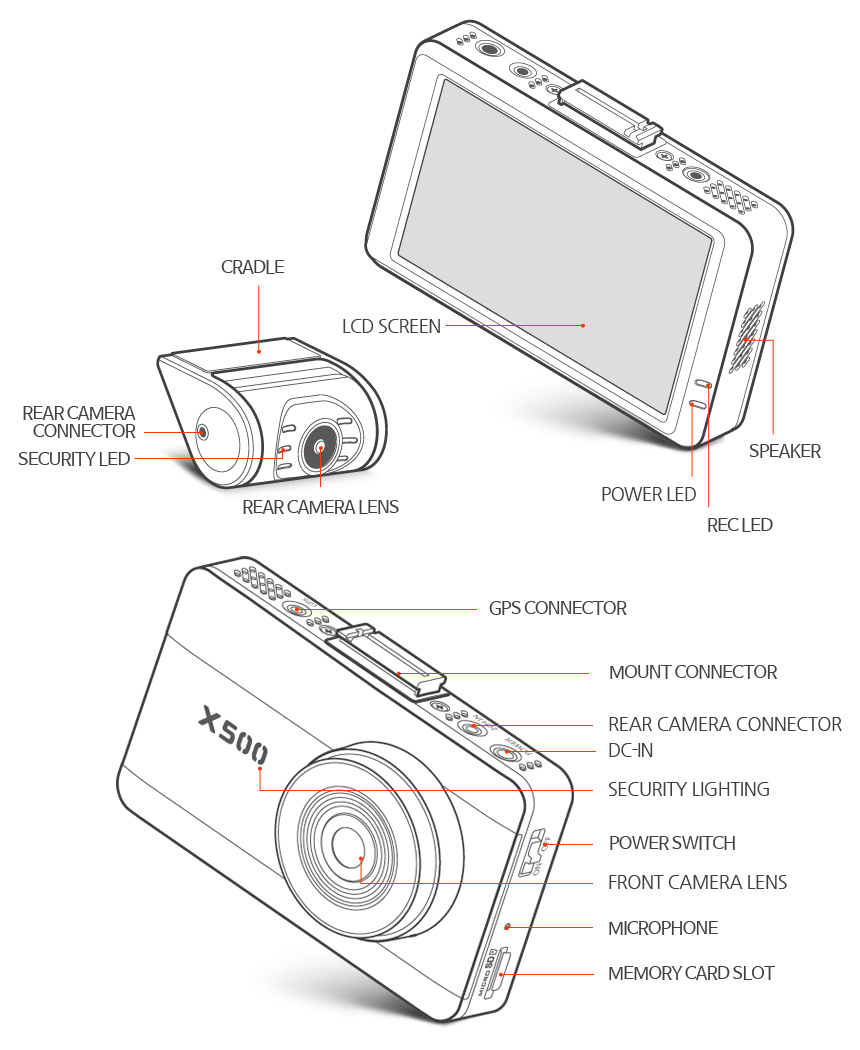 WHAT'S IN THE BOX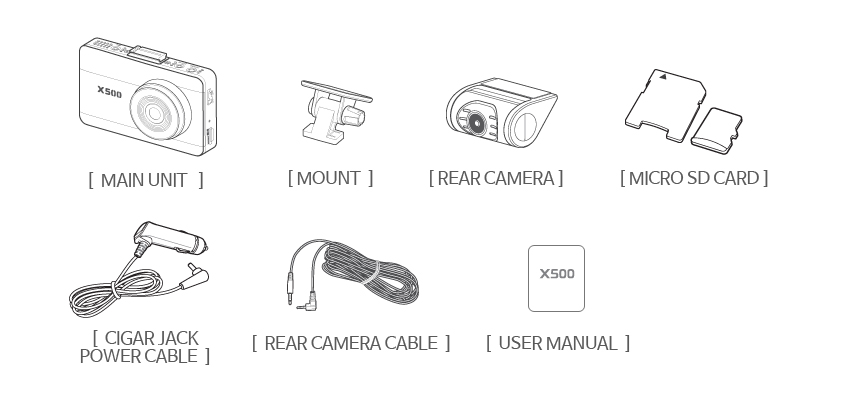 ※ Please use a FineVu genuine micro SD card, otherwise the camera may be unable to record or recording may be interrupted.
OPTIONAL

SPECIFICATIONS
Resolution
Front : Full HD (1920×1080) 30fps
Rear : Full HD (1920×1080) 30fps
Image sensor
Front/Rear : 2M pixels CMOS Image Sensor
Viewing angle (D)
Front : 155°         Rear : 140°
Video/Audio
Video : H.264         Audio : PCM
Capacity
Micro SD Card (16G/32G/64G), MLC, Class10 or above recommended
Display
3.5″ IPS LCD (800×480) with touch
Recording modes
Driving recording
Driving event recording
Emergency recording
Parking (impact or motion detection) recording
Driving time lapse recording
Parking time laps recording
Input Voltage
DC 12 – 24V
Temperature
Operation Temperature : -10℃ ~ 60℃ (14℉~140℉)
Storage Temperature : -20℃ ~ 70℃ (-4℉~158℉)
Dimension / Weight
Front : 98.5 x 60.9 x 18.8mm / 98g
Rear : 53.8 x 44 x 28mm / 27g